Roughly every dog sheds a little. Non shedding dogs breeds shed less. If you are seeking for non shedding dogs then we have list of least-shedding dogs breeds just for you.
This doesn't mean you will not have hair in your home. A non shedding dog breed is a good choice for those who don't want to vacuum often or have to find hair everywhere.
Approximately 30% of Americans are allergic to dogs according to the Asthma & Allergy Foundation.
Think: dander (dead skin cells), urine, saliva and pollen. As dogs shed their hair, these items linger in and around the home.
NON SHEDDING VS. HYPOALLERGENIC
The label "non shedding dogs breeds" is a tad misleading. All dogs shed a little bit. Non-shedding dogs breeds simply shed less compare to other popular dog breed.
This doesn't mean you won't find any dog hair in your home, but anyone who doesn't want to vacuum constantly or find dog hair literally everywhere should consider a non shedding dogs breed. Of course, less hair also means less dander.
Hypoallergenic means the breed's fur doesn't collect as many allergens. So, if and when the dog does shed, fewer particles of dander or saliva are dispersed into the air. Sadly, there is no magic dog breed that is 100-percent hypoallergenic.
This is why non shedding dogs and hypoallergenic dog breeds are popular with folks who are allergic to canines but love them too much to stay away.
Plus, The New York Times reported several studies found children living in homes with pets have fewer allergies in general as adults. Just some food for thought.
Hypoallergenic is a breed that doesn't accumulate as many allergens. If the dog sheds, less saliva and dander are released into the atmosphere. Unfortunately, there is not a dog breed that is 100% hypoallergenic.
VCA Ark Animal Hospital claims that pet dander contains proteins that are specific to each pup (in the urine and saliva) so it is possible for an individual's immune system to handle one animal, but not another. Two different poodles can cause different reactions in one person.
Non Shedding Dogs Breeds
Hypoallergenic and non shedding dogs breeds are less likely to cause allergic reactions in those who have previously been exposed to dogs.
These non shedding dogs breeds can have very long, short or even no hair. Remember that every dog and person is unique. You may need to meet several before you "find the one."
Do you have allergies or are you unable to deal with the hairy dog hairs in your home?
This list contains the top dog breeds that don't shed. Some dog breeds have nearly-hypoallergenic coats that produce much less dander, which is attached to the hair and causes most allergens in humans.
Although no dog is hypoallergenic, it's possible to live with a low-shedding dog. You can be more comfortable with a vacuum or pet purifier.
Find out which breed is the most suitable for your lifestyle.
1.
XOLOITZCUINTLI
Hypoallergenic
The American Kennel Club lets us know this breed is pronounced "show-low-eats-QUEEN-tlee." There are three different sizes to choose from: toy, miniature and standard.
Xolos have existed for nearly 3,000 years. The hairless varieties don't have hair, but just skin. Unlike other hairless breeds, the Xolo skin is strong and well-fitting.
This breed comes in three sizes: miniature, standard, and toy. There are three sizes available for this breed: toy, standard, and miniature.
Coated Xolos should be brushed occasionally. Protect your skin from extreme temperatures, hairless Xolos like the Chinese Crested need to be brushed on occasion.
2.
CHINESE CRESTED
Hypoallergenic
These tiny creatures may look like they belong in Star Wars but they are extremely affectionate and can live to 18 years.
The hairless Chinese Ccested puppies have small, wavy, shaved heads and tails. However, their skin is smooth everywhere else. Dog-friendly sunscreen should be used in summer, and warm jackets for winter. 
These playful dogs look very much like the Chihuahua with their small sizes and similar body shapes. Their hair is mostly bare. You can take a shower to clean them.
Protect your skin from extreme temperatures and weather conditions with sunblock in summer, and sweaters or jackets winter.
3.
BASENJI
Hypoallergenic
They have very short hair and are often compared with cats because of their tendency to groom themselves. They make up for what they lack in allergy-fighting energy by exercising regularly.
4.
PERUVIAN INCA ARTCHID
Hypoallergenic
The Peruvian Inca orchid, another hairless dog, comes in beautiful shades such as pinky-white and golden-brown. These unique dogs, which look almost like miniature mohawks, have tiny tufts of hair that hang from their heads.
This breed comes in three sizes: the small, medium and large hairless versions.
They can be loyal and affectionate, and they are also able to protect their family. To maintain their energy, they must be physically active every day. It's important to take care of your baby's skin during their first year.
5.
AMERICAN HAIRLESS TERRIER
Hypoallergenic
Surprise! Surprise! According to the AKC, their skin is soft and warm. The American Hairless Terrier (savannah) is friendly, energetic and shows great affection to its owners
Although they are active, they can also be content with a daily walk. Because they lack a coat, they aren't suitable for hunting. They have strong hunting instincts.
This breed can benefit from taking occasional baths to keep it looking and feeling its best.
6.
BEDLINGTON TIER
Non-shedding
Although the Bedlington terrier has a tightly curled, snout-free coat, it can shed quite quickly. It also needs to be trimmed every other month. These dogs are friendly and great family pets.
Bedlington Terriers are a rare breed. Their soft, curly and hard-coated hair resembles that a lamb's.
They are easy to care for and require only occasional trimming. Keep them clean They should be brushed often to prevent mats. Your dog will enjoy daily walks and playtime.
7.
KERRY BLUE TIER
Non-shedding
Are you looking for a gorgeous slate blue coat that will not leave a trail wherever it goes? The kerry-blue terrier is here! They require regular haircuts and frequent brushing, but they shed very little.
Kerry Blue Terriers can be intelligent and people-oriented. Brush their dense, soft hair regularly, especially the long hairs on their heads. These dogs are hypoallergenic and suitable for those with allergies.
8.
SOFT-COATED WHEEATEN TERRIER
Non-shedding
You can swap the curly hair of the kerry terrier for straight golden locks. This will give you another non-shedding Irish terrier. You need to brush its silky coat, including those cute bangs, often.
9.
YORKSHIRE TERRIER
Hypoallergenic
Ah, Yorkies. These tiny, rebellious animals have hair that looks more like human hair than dogs' fur. You should not let your hair grow too long. Instead, make sure to trim it daily and give it a top knot.
10.
BORDER TERRIER
Hypoallergenic
Do you see a pattern? Terriers have wiry hair, which makes them hypoallergenic and low-shedding. Border terriers are double-coated.
This means that they have soft fur under their skin and wet hair on the top. You can expect to brush a lot in the summer, but not as many allergens throughout the year.
11.
SPANISH WATER DOG
Hypoallergenic
This breed might look at first glance like an allergy sufferer's worst nightmare. The corded curls are hard to brush and rarely shed. Routine trimming is all that's required to keep your pups looking good.
Spanish Water Dogs are hardworking, affectionate and loyal. They are superior watchdogs. They are medium-energy dogs and will act well with an active family members. Their curly hair does not require any brushing or combing, but should be shaved once a year.
12.
PORTUGUESE WATER DOG
Hypoallergenic
The Portuguese is similar to the Spanish water dog. It has buoyant curls. Although shedding is more common in warmer weather, the Portuguese's coat can be cut down to less than an inch.
They enjoy fullest in active families and Portuguese water dogs are  very energetic. These dogs are adventurous and playful. They have thick, curly, or wavy coats that are waterproof. They can be hypoallergenic but require to be groomed frequently.
13.
IRISH WATER SPANIEL
Hypoallergenic
The Irish water spaniel, a member of the Afghan hound family, might have been the '80s hairband. This furry head is full of hypoallergenic hair. It is waterproof as well.
The Irish Water Spaniel is also known as the clown spaniel. Its double, water-resistant fur should be brushed every few months.
Their thick, curly coat makes them very playful. Irish Water Spaniels can be very energetic and playful so they should exercise every day.
14.
HAVANESE
Hypoallergenic
We begin our journey to "small, white and hypoallergenic dog territory" with the Havanese. There are many options, including this adorable little guy who is lively, soft and doesn't bark often.
15.
MALTESE
Hypoallergenic
Maltese coats are similar to the Havanese. They can be super long or trimmed very short. You can choose to make it long or short. To avoid snarls, if you decide to go long, make sure to brush every day.
Maltese are small and fearless. They appear healthy and young, almost like puppies.
They're playful, gentle and not too energetic. Their hypoallergenic white coats should be brushed daily, especially if they are kept for long periods of time.
16.
BICHON FRISE
Hypoallergenic
Bichon frises make a great family member. They are similar to fluffy, hypoallergenic marshmallows. They also don't shed much. They should be bathed and brushed often.
The Bichon Frise's soft, curly, and white coat looks almost like a miniature Poodle. This breed is ideal for allergy sufferers.
The hair of this breed will grow and not fall out, so it must be trimmed. This breed is playful and friendly, making it an ideal dog for first-time owners.
17.
COTON DE TULEAR
Hypoallergenic
Coton, the French term for cotton, should tell you all you need to know about these soft pups. When brushing long Coton de Tulear hairs, it is recommended that you use a high-quality doggy conditioner.
This is the Royal Dog of Madagascar. They are gentle and affectionate with long, soft white hair. Maintaining a full-length, healthy coat can be done with a pin brush.
18.
SHIH TZU
Hypoallergenic
Often–surprisingly–referred to as the "Lion Dog," the Shih Tzu is a ball of affection. A long coat, like the tiny titans, requires constant grooming. It can also be cut short, which is a good idea.
19.
WEST HIGHLAND WHITE TERRIER
Hypoallergenic
Westies are a great choice for people who require a hypoallergenic dog that looks happy and healthy. They can be independent and will do anything, but they are easy to groom.
20.
SCHNAUZERS (

Miniature Schnauzers)
Hypoallergenic
All schnauzers, whether they are miniature, standard, or giant, are hypoallergenic and shed less frequently. Border terriers may need to brush schnauzers more often, as they are double-coated.
This is the largest Schnauzer variety. It's active and protective. They look more like the Standard Schnauzers than the Miniature Schnauzers. Their hair can be dry, hard and thick.
Miniature Schnauzers can be protective and watchful. They can adapt to any living situation and are generally healthy. Their double coat should be trimmed every now and again, but it sheds very minimally.
21.
AFGHAN HOUND
Hypoallergenic
Talk about a show-stopper. The Afghan hound's long, luxurious coat is a show-stopper. These dogs love to run around outside and will require a lot of brushing and washing.
Afghan Hounds can be independent, but they are also sweet and loyal. They resemble Greyhounds in size and shape. Because of their energy, they are very active and need to be exercised often.
Their silky, long coats are soft and luxurious. To keep their silky, luxurious coats silky and soft, they should be bathed at the very least twice per week.
22.
POODLES
Hypoallergenic
Standard, miniature and toy poodles can be some of the most intelligent dogs around. They are great dogs for those who love adventure, bold style, and allergies. 
There are three sizes: standard, mini and toy. The curly, single-coated hair of Poodles is almost hypoallergenic.
Brushing your dog at least once a week will help reduce the amount that he sheds and lessen the chance of an allergic reaction.
There are three sizes of Poodles: the standard, mini, and toy. They are often seen with their fluffy, soft show cut.
Their curly, single-coated hair is almost hypoallergenic. Although they won't shed their hair all over the sofa, Poodles can shed a few hairs at a time, just as humans.
A minimum of once per week brushing will reduce the amount of shedding and decrease the likelihood that your dog will have an allergic reaction.
23.
AFFENPINSCHER
Hypoallergenic
Star Wars character. Take two. An adorable, small dog with coarse hair that grows slowly, the Affenpinscher. Be sure to trim your hair occasionally, and don't forget to give them a lot of attention. These dogs are very independent.
24.
ITALIAN GREYHOUND
Hypoallergenic
Regular greyhounds can be hypoallergenic. Italian greyhounds have a short, sleek coat. Because they are almost fat-free, wrap them up in layers when it gets cold.
25.
LAGOTTO ROMAGNOLO
Non-shedding
These water-loving dogs were used originally in Renaissance Italy to search for truffles. They shed very rarely, but need to be brushed every week to ensure they don't mater or snarl.
The full-body curls of the Lagotto Romagnolo are more human hair than doggy hair. The Lagotto Romagnolo breed is energetic, active and affectionate. They are loyal and affectionate to their owners and make great companions.
Their thick, wooly coats resemble a Poodle's. Their coat needs to be trimmed occasionally. They are hypoallergenic and don't shed.
26.
PULI
Non-shedding
Pulis was bred to herd dogs and developed a thick corded, thick coat to keep them warm in harsh winters outside. Their coats can be cut short, brushed out, or corded today.
Even though they shed very little, maintaining a Puli's hair must be done regularly. You can find tons of information on how to groom this beautiful dog at the Puli Club Of America.
27.
BERGAMASCO
Non-shedding
Amazingly, the Bergamasco doesn't shed despite having a long, wooly coat. A matted coat, like Pulis's, is normal. It is not wise to trim or shave Bergamascos down, unlike Pulis. Their coat regulates their body temperature. People allergic to wool might want to avoid it.
28.
LHASA APSO
Non-shedding
These pups shed very little, but they do need to be bathed and brushed regularly to maintain a healthy skin and coat. Lhasa Apsos are old souls, and while they learn quickly, they can be stubborn with strangers.
Soft Coated Wheaten Terrier
This breed is active and playful. They are adaptable to their surroundings and can be good friends with children. A single-layer, soft coat of wheaten-colored hair is their best defense against mats.
Standard Schnauzer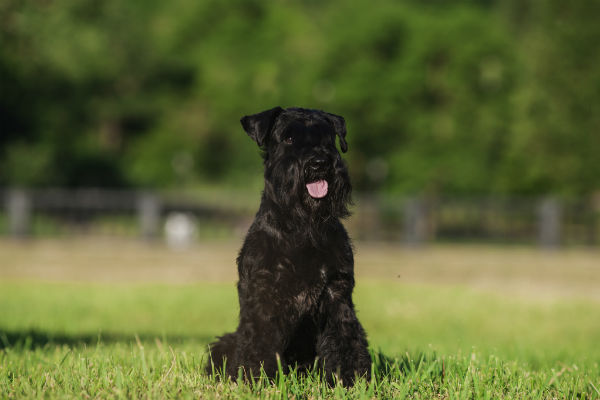 The Schnauzer standard is the "medium-sized" Schnauzer. He or she is fearless and affectionate. Standard dogs are loved by their children and become part of their families. To avoid mats, their beard and legs should be brushed frequently. Common methods of grooming include hand stripping and cutting the hair.